**Coming Soon** Men's Wet Shaves at The Salon, Langley Park
**Coming Soon** Men's Wet Shaves at The Salon, Langley Park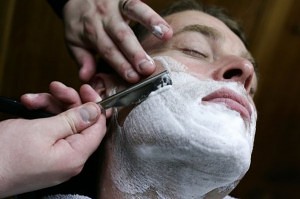 The Salon Langley Park are super excited to be packing a serious new weapon into our armoury – The Cut Throat Shaving Experience! Coming March 2015 to our hair salon in Durham, we have seen a surge in male pampering over the last two years – and we can not wait to offer this amazing service to our male clients!
We have three team members in training at present Alan, Michael and the GENTS GURU Anisha. We will be equipped with the knowledge and skills and understanding to tackle this growth market, we will have the knowledge to share our expertise and the benefits of a cut-throat-shaving service. This is the ultimate complete pampering experience for the guys!
We will have the ability to use a cut-throat- razor, knowledge on hair growth, understanding different growth patterns, face shapes, skin sensitivities and dealing with tricky skin textures. Also understanding the science behind the skill. Health and safety is our number one priority to ensure clients compatibility and safety.
Your Wet-Shave Service Includes;
Skin preparation, cleans and oil, product knowledge
Hot towel massage
Cut-throat- shave
Hot towel finish massage
Cold towel massage
Moisturiser and cologne
Price JUST £15.95!!!!
VIP Wet Shave + Haircut £24.95